Comment
Keeping things in proportion
After the debacle at Mirrabooka on Sunday 19th March, players, officials and parents should be considering several points.
Firstly, the referee is right even when he is wrong. On a ship, a captain wields undemocratic command and any refusal to obey meets with instant punishment. Otherwise, in an emergency, time is wasted, control of the situation is lost and damage is increased. It is similar on the rink. Maybe some calls are not what one team wants, maybe some calls are misjudgements and maybe some calls are even errors, but the ref has absolute power, his decisions stand and have to be followed. If there is objection – apart from disgruntled faces and comments under the breath – then there can be no action. The only avenue is to appeal after the match.
Secondly, the adults have a responsibility to the kids to set standards of behaviour. Parents bring their children to the club with the hope that they will not only get fit and learn hockey skills but also adopt behaviours from their elders – leadership, cooperation and tolerance. It can only damage the morale of the team and disturb the development of the players if these officials forget that they should be models to their charges.
Lastly, let's get things in proportion. It doesn't really matter who wins. Yes, it's great to beat the other guys – there's a feeling of achievement, belonging and elation. But where are we? In some countries, players who lose soccer matches are tortured in prison and in others Olympic medallists are given a house and car or a multi-million advertising contract. Here, we are in a country where hockey is not a national sport, we are playing in a small amateur league and if we lose, nothing is going to happen. Let's prioritise what is really the goal of these matches – to gain from the enjoyment of playing itself more than from an overriding need to win that denies pleasure if we lose.
PN
This comment is not endorsed by nor necessarily reflects the opinions and policies of the WAIHA or any Western Australian ice hockey club.
---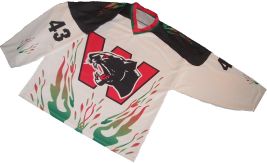 If you need hockey equipment, we have some used gear available. (see Swapmeet).